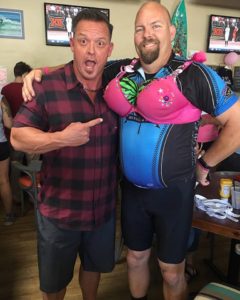 Thanks to all of our sponsors, volunteers, and riders, The Boob Ride CA had another record breaking year. With a combined total of 202 riders, we raised over $14k this year! Some of the highlights from the ride are:
No one blew away at the gusty OC start
Amazing volunteers and new partners with Team STRIDE in San Diego
Fantastic bike shop sponsors at the support stops
Great new Boob Riders, including 15% growth
New Diamond Bra Award and a tie between the Most Supportive groups, Team STRIDE and Bicycle Club of Irvine
Fancy new tshirts sold at the event. You can still order here
Great post-party at Tidewater Tavern with over $5,00 in amazing raffle prizes and games
The 2016 California Winners Are:
Yellow Bra for Best Overall Rider (Male) – Mike Zanio
Pink Bra for Best Overall (Female) – Robin Block-Schultz
Red Sports Bra for Most Aggressive Rider – Jim Neas
Polka Dot Bra for King of the Mountain –  Dickie Fernandez
Green Bra for Best Sprinter – David Verdecia
White Training Bra for Best Young Rider – Jodie Roe
Diamond Bra for Most Inspirational – Marianne Masterson
The Big Blue Bra for Most Supportive Club – Team STRIDE (SD) and Bicycle Club of Irvine (OC)
Thank You to All Our Sponsors:
AMR, Performance, Trailer Park, Epic Freight Solutions, Milburn Design, Sound Productions, James Litho, Velofix, Irvine Bicycles, Kaia Fit, Rev Endurance Sports, RocknRoad Cyclery, Steadfast Consulting, O-Tus, Honey Stinger, Zone Perfect, RoadID, and Sparkletts,
For extra savings, please see our special offers from our sponsors below:
We'd love to hear your feedback! Take our survey here.
Please upload your pictures to our dropbox link here.
If you would like to still make a donation, please click on this link.