The Boob Ride San Diego
Saturday, April 20, 2024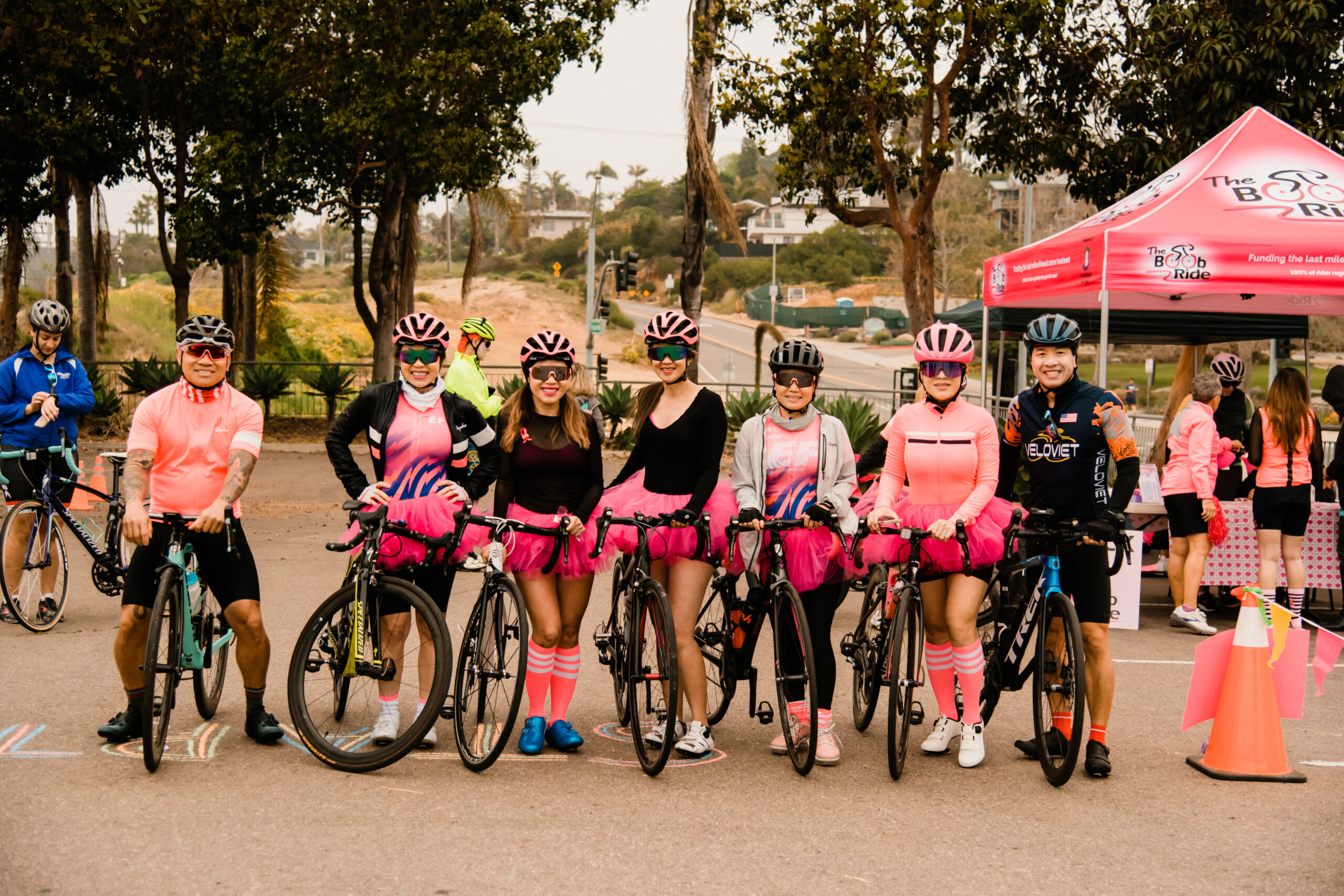 The Boob Ride is always a lot of fun. Coastal scenery, good friends, a challenging ride (or be casual about it), and it is capped off with a big Last Mile Party.
Highlights:
The event is capped at 300. We are trying to keep our event intimate and manage all the logistics. So, you'd better get signed up ASAP.
The Last Mile Party is at  Piña's in Encinitas. Location is 345 S Coast Hwy 101, Encinitas, CA 92024.
The buffet was great last year and we will have it again this year. Contact us if you would like to sponsor the buffet.
None of the routes go north past Oceanside. This means there is no need to get a DBIS ID for Camp Pendleton or ride the freeway.
The routes may wriggle a little bit based on any hazards we find, but the routes will be pretty close to the 2023 routes.
Volunteer?
We are always looking for volunteers that want to have a lot of fun for a good cause. Click here to volunteer.
Event Information
If you haven't done The Boob Ride before, here are some highlights and FAQs
Ride starts and finishes in Encinitas at the Park & Ride located at 483 S Vulcan Ave, Encinitas, CA 92024 from 6:30 - 9:00 AM
The destination is Encinitas for a big Last Mile Party where we raffle off great prizes and give out fun awards.
Riders will need to bring money to buy lunch and raffle tickets at the event.
Group starts by the Cup level. Ride with the entire group, make new friends, ride with your friends and have a great time.
Group photos are back. Before each group rolls out, we will get a cool group picture.
Routes, schedules, and so forth
A-Cup is a 30 mile route for those that are big hearted but light on training. The ride is up the coast with a U-Turn in Carlsbad, finishing at the Pinas. It is mostly scenic and coastal.
B-Cup is a U-turn route. This route is designed for those that want to support the cause and do some of the ride with their friends. You can start with the D or C groups, ride as far as you want to, and turn around as you see fit. Some would say that this is the perfect size, not too small and not too big. Just right!

Suggested route is here, but you can go further or turn around sooner.
Start is 8:00 am

C-Cup is a 60 mile mile loop through some scenic areas
D-Cup is a 90 mile ride through the Elfin Forest and Rancho Sante Fe. This is a very scenic, but a very hilly and challenging route. Make sure you have the legs and lungs for before you take on this one. Just in case you change your mind, you can stay on PCH at Palomar Airport Road and finish with the C-Group.
Be in by 12:45 or you'll miss the famous awards ceremony.
Registration is Open.




Don't be a boob,


sign-up now.