Merchandise
Show Your Support
Want Official Boob Ride Gear?
The t-shirts are cool and the jerseys are VERY popular.
Jerseys
Jeresys must be ordered by 4/10/23 in order to have for the ride on 4/29/23. Assuming Fedex is on time.
Jersey
Available in Pro and Relaxed Fit
 Jerseys Details
Cool looking jerseys are available. You can order either kit, and it usually takes about two weeks to produce and ship to you.
The jerseys have a full zipper.
Pro Elite (real snug and no flat lock stitching) or Club (loose fit) are options as well. The Club fit is more popular with casual riders. Important - make sure you review the sizing charts to find the right fit for you. The kits run small, so clothing sizes and jersey sizes are not the same.
Materials include elastic microfiber polyester with micro-cells that allow for maximum breath-ability, air permeability, and water absorption.
The fabric has been designed to wick (draw humidity away from the body and expel it). This feature helps keep the rider cool and dry.
The side panels are made of Air Mesh fabric to increase airflow, allowing for a comfortable ride.
3 back pockets allow you to store multiple items: wallet, phone, keys, snack, etc.
Soft elastic on pockets and waist help keep the jersey in place.
T-Shirts
All Three Designs are Available
We are in the process of phasing out our inventory of t-shirts. It is quite challenging to pre-purchase, inventory, sell, and ship for our little non-profit. Some of the products below may be out of stock.
Amazon Merchandise
We are putting products onto Amazon Merchandise that are produced on demand and we do not have to do anything! Please feel free to purchase our remaining inventory, or go straight to Amazon Merchandise.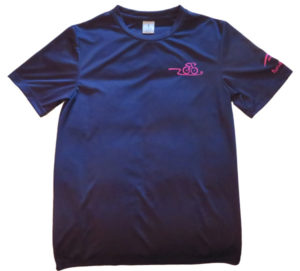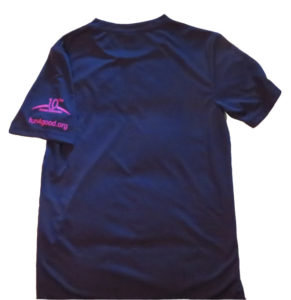 This is our cool new microfiber performance shirt for our 10th anniversary event. If you like shirts that are dry fit and athletic, then you will like this shirt too.
We also played with our branding a little bit. We just have the cyclist on the bike, no wording, just the symbol. The left sleeve has the Fun 4 Good name and a mention of our tenth anniversary event. The back has nothing on it. This is a very subtle and clean look on a great shirt.
The color is a deep blue that makes our pink logo pop.