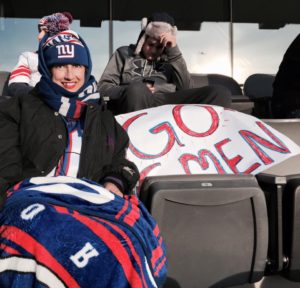 One of our founders and event coordinator is a die-hard, life-long NY Giants fan. She is also a colorectal cancer survivor. In September she was facing a giant of her own (Stage IV for the second time). So, we decided that Karma needed a little kick in the pants.
We contacted the NY Giants and ask for tickets to a home game. To my total shock and surprise, the VP of Community Relations reached out to me. We picked the home game on December 20th, which helped power Dayna through her recovery from surgery. Now, we just had to figure out how to get her there. Fortunately, another Boob Ride volunteer just happens to be a JetBlue flight attendant. After the pulling of many strings and calling in of personal favors, Dayna had buddy passes to get to the game. Buddy passes can be tricky, so my friend and volunteer, accompanied Dayna on her flights and ensured her safe and prompt roundtrip voyage.
Dayna's has nerve issues and walks with a brace and a cane due to recent surgery, the Giants staff assured me that they would take care of her. And they did! Dayna was given a parking pass,  two field passes to watch practice before the game, and club seating! This was a once in a lifetime event and the NY Giants did not disappoint! Fortunately, Dayna's sister was able to join her at the game too. They enjoyed the VIP club seating with its meat carving stations, fabulous food options, and tons of free snacks and seats.
We tend to focus on the research and treatments for cancer patients, and sometimes the best medicine is leaving cancer behind and enjoying the moment. While Dayna's cancer struggle is ongoing, her spirit and strength is renewed, so she can fight another day. Cancer takes and emotional toll on the patient and all his/her family and friends. It is important to take time to do big things, happy things, and do what we can to improve the quality of our friends' lives, even if it is only for a weekend.
Lastly, there are compassionate people in great corporations willing to help. All we have to do is ask. Most people want to make a difference, but lack an opportunity. So ask for something on behalf of someone else and see what happens.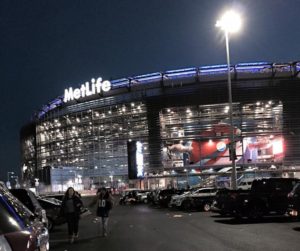 FUN 4 GOOD is dedicated to helping cancer patients and their families throughout their cancer struggles. We are committed to raising money for causes and charities that align with our core values. Therefore, we are pouring our energy into developing another event to benefit colorectal cancer awareness and research.