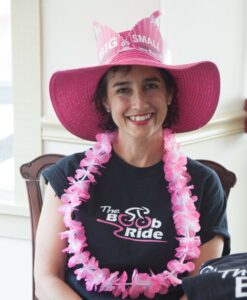 The Loss of One of Our Own
Sadly, this week we lost one of our own - our co-founder Dayna Hinsley, lost her battle with cancer on Wednesday October 30th. We have suffered a tremendous loss of a co-founder, friend, and all around inspirational person.
For those of you who knew Dayna, you knew she was full of light and laughter. She coordinated The Boob Ride's post ride party for almost ten years. Last year, she stepped down to focus on her health, but she still managed to attend the party and be with the team. Dayna was diagnosed with colorectal cancer in 2009 and valiantly fought it for over ten years. Dayna helped plan and direct the post event party even when she was going through chemo and other treatments. Despite all that cancer took from Dayna, she never wavered in her commitment to stay positive and fight this disease, as well as inspire and educate us in the process.
Witnessing Dayna's struggles, we decided to turn our efforts from raising money for cancer research to meeting the daily needs of cancer patients going through treatment. We saw the obstacles that Dayna was confronted with every day, and she inspired us to change our focus. It was because of Dayna that we fund transportation to treatment, treatment, and pay bills.
While we are forging ahead, we know that Dayna is cheering us on with her magnetic smile, infectious laugh, and of course... balloons.