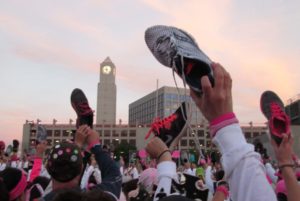 Team STRIDE and The Boob Ride Cheer Station
Team STRIDE and The Boob Ride are teaming up to help cheer on the Susan G. Komen San Diego 3 Day Walkers on Saturday November 19th. We would love to show some Boob Ride love to our fellow San Diego Boob Ride volunteers. Come on out and help support the cause! 
We will cheer walkers on from 1:00 pm – 4:30 pm on Saturday November 19th.
The cheer station is located on the bayside walk/beach boardwalk at the corner of Riviera and Moorland Drive, San Diego.
Team STRIDE Survivor Stretch
Team STRIDE's Survivor Stretch is a one mile walk from the last pit stop to the cheer station. 
Team STRIDE, survivors, and supporters can meet up at Fanual Street Park and walk 1 mile of the survivor stretch together ending at the STRIDE cheer station.
Survivors and supporters will gather at the park at 2:30 pm and walk from Fanual Street Park at 3:00 pm along the boardwalk ending at the cheer station by 3:30 pm.
Also, check out the interview with Marianne Masterson (The Boob Ride SD Director and captain of Team STRIDE) on Susan G. Komen's 3Day Blog!