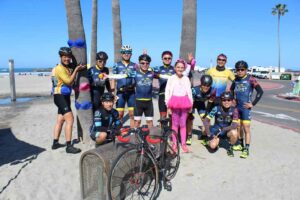 Who Wants to Be a Volunteer?
Not a cyclist? No time to train? Want to give back?
You can still come out for the ride as a volunteer. We need volunteers who want to take part in a great event that is fun and exciting, as well as a bit irreverent. Come out and volunteer for The Boob Ride on April 9, 2022. We will have a volunteer meeting on Zoom on Sunday March 27th at 3:00 PM. We will discuss the volunteer opportunities and talk about how you can make a difference in the lives of breast cancer patients and their families.
We have volunteer opportunities in Orange County and San Diego County. This year we have a sign up page on our website and we would like volunteers to sign up for specific roles at specific locations. We have a short description for each volunteer role. Also, our insurance is stipulating that we need to have all participants select the "I agree" box to our waiver. We need help with:
Location: Irvine Transportation Center
San Diego Start and Finish: 
Location: Distillery Parking Lot - Solana Beach
Location: San Clemente, Carlsbad, and Elfin Forest
Location: Tidewater Tavern
Location: Orange County and San Diego
Volunteer Meeting - Sunday March 27th at 3:00 PM
We'll send the link to all the volunteers who are signed up!
To volunteer, click on the links above. If you have questions, email us at [email protected].