This is a recap of Michelle's 3 Day SGK walk, why she did it, and how she started The Boob Ride Pennsylvania.
In August of 2014, I found a large lump in my right breast.  I had already had breast cancer 7 years prior and had clean mammograms every year – It didn't even cross my mind that this could be a cancerous tumor.  That month and the tumor grew to over 9cm and was extremely painful.  I spent months in treatment and several surgeries with lots of time to think about what is important in life.
During the weeks of lying in bed feeling like I would never be able to do anything normal again, I saw the television advertisement for the Susan G. Komen 3-Day.  It was that time that I thought if I could walk 60 miles in 3-days, there was nothing I couldn't do!  I talked to my niece, Jackie, and my good friend Christina and asked for their help.  It took some coaxing but I convinced them it would be a great experience and a worthy cause.
Launching The Boob Ride Pennsylvania
In order to walk in the 3-Day, each person needs to raise $2300 which goes to help fund research, mammograms, and other needed services.  We all were a bit overwhelmed by that number.  Since my daughter, Jackie, and Christina were all avid bicyclists, I thought we should capitalize on their passion to raise the money.  I reached out to Joanne Harrington, one of the Susan G. Komen 3-Day coaches and she suggested I contact group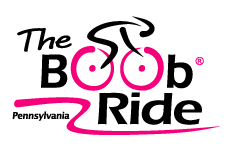 in California that run a benefit ride for breast cancer called "The Boob Ride".  Jennifer Carey and Paul Self were delighted to help me put on my first ever biking event.  They provided amazing support with a plan of execution, lessons learned, ways to use social media and all of the logistics needed.  The event was amazing and we had 100 riders, which we hope to double in 2016!
After we raised the money to walk, I had to figure out how to train to walk 60 miles in 3 days.  I was still weak from the chemotherapy and radiation, so I made a plan to start slow.  I started with a slow 1 mile walk a few times a week.  Once that did not seem difficult I doubled it to 2 miles.  However, training to walk 60 miles is a daunting task. At one point, during a 5 mile training session, I thought Am I crazy? How am I going to do this? I pushed through the doubt and soon I was able to walk 5 miles a day without a struggle.  This was still not 60 but it was a good foundation for the walk.  Jackie and Christina were great and both fit from biking – though I am not sure they knew what they were in for.
Day One
On day one, we had horrific weather from hurricane Joaquin.  We still walked!  Cancer doesn't care what the weather is like so why should we?  We taped our sneakers with duct tape, and pulled out all rain gear.  It occurred to me how much I take flush toilets for granted. Using porta-potty on day 1 in the rain was a challenge.  My legs were weak so squatting was a challenge, but the worst was trying to gather the toilet paper, which ended up just becoming a ball of w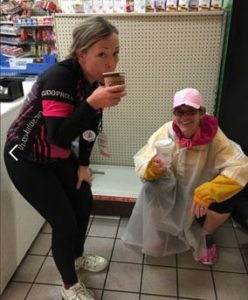 et tissue. Despite the weather and obvious discomfort, we laughed a lot – we had to stop at Dunkin Donuts many times to use the facilities and refuel with coffee. Christina said, "We are running on Dunkin"! It was a  tough 23 miles on day one but we did it!  I think we were all shocked.
This was the first day of the event and when we arrived at camp, we were so wet that our rain gear was wet on the inside.  We walked to the opening of the camping area where we looked out into a vast area of pink tents.  Luckily in Philadelphia, they actually camp in the Convention Center – so it was at least dry inside.  I will never forget standing at the entrance after walking 23 miles and saying "Where do we get a shower and where is our gear?".  We asked one of the volunteers and they pointed across the convention center room and said, "Back there".  We all looked with a blank stare and Christina said "How do we get there?"  We all laughed and could not believe that we had to walk another step.  I really never thought I would ever shower in a tractor trailer, but I guess I can check that one off my list.  Fortunately the showers were clean and the water was hot – Christina said "This is glorious!" after walking in the rain and wind all day!  Jackie said it was the best shower she has ever had.
We ate a warm meal and set up our tents.  We laid down in our tents and talked about what we just did and could not believe we had 40 more miles to walk.  I thought about how fortunate I was  to have my niece and friend join me on this journey.  Each of them provided encouragement and humor as we walked.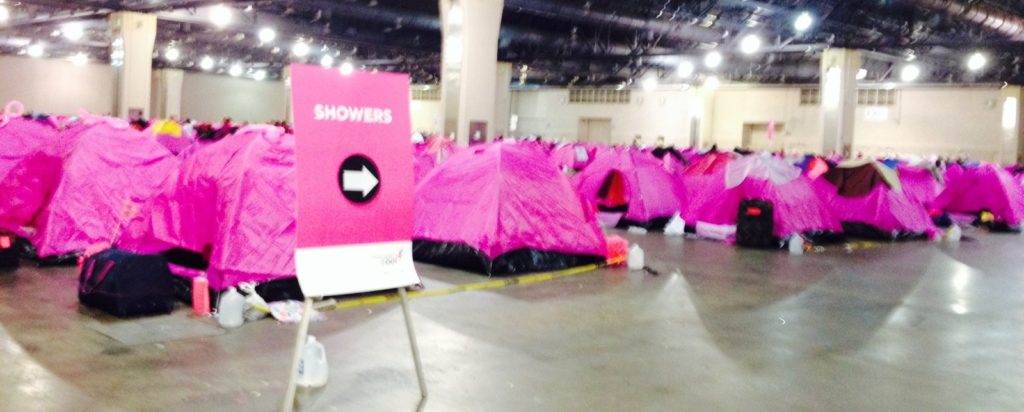 Day Two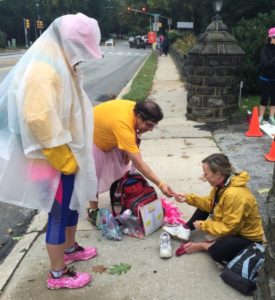 We woke up – it took some time to stand erect but with a little help, we managed.  The weather was much better– just a bit windy from the hurricane.  We had some breakfast and started off.  Blisters had started to form on Christina's poor feet and Jackie had a sprained tendon in her toe.  It was hard to keep negative thoughts away because I was tired and sore.  But cancer does not care if you are tired or sore.  You must fight on.  We walked and walked, up and down hills, dodging puddles from the day before.  When I felt like I could not take one more step, I thought about my battle against cancer and that just 12 months prior. I was lying in bed thinking that I was going to die.  I truly never thought that I would be able to accomplish walking 60 miles.
The great thing during all of this is that we were with friends.  Friends that have endured and struggled through the same battles.  The volunteer staff was so amazing – they would shout out to the walkers telling them "You're doing a great job – keep going!"  There was one cheering section that we loved – this group of men that drove around and got out of their car with music booming and danced and cheered us on. They proved to be a fantastic distraction from my achy feet or the thought of how many more miles I still had to go. While on the walk, we found a woman that was selling buttons for breast cancer.  We stopped and bought a few – the sayings were so fitting for all of us: "Blister Sisters", "Limping is still walking", and "Blisters don't need Chemo". I can't tell you how much energy can be created just by having people believe and support you.
Day 3
We were so exhausted, and we felt like we had been through a battle.  Sore feet, hips and knees did not stop us.  We knew at the end of this day we would reunite with our families and celebrate the great journey we had just experienced.
Somehow at the very end as we headed to the finish line – we gathered enough strength to hold hands and skip across the finish, where I was met by my wonderful husband and son along with some friends, including my sister who had also battled for her life against breast cancer.
[embedyt] http://www.youtube.com/watch?v=2RWd3T8VrlA[/embedyt]
After about 55 miles, we still had a dance left in us.
I was honored to be part of the survivor circle in both the opening and closing ceremonies along with seven other wonderful people.  The Susan G. Komen 3-Day is so much more than just raising money for breast cancer.  It is about bonding with people that have overcome great challenges, whether personally or with a friend of family member.  It is about honoring those who have lost their battle to breast cancer.  It is about knowing there are thousands and thousands of people like you that are trying to make a difference it the world.
Michelle