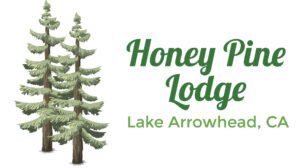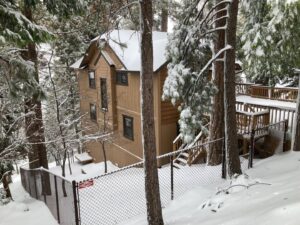 Honey Pine Lodge Sponsors the 2023 Polka Dot Bra Award
Another first-time sponsor, Honey Pine Lodge, is sponsoring the Green Bra!
The Boob Ride has always been a family affair, and that trend continues with Paul and Jody Bras! The Bras family donated a stay in the gorgeous Honey Pine Lodge cabin in Arrowhead, CA. This 3 bedroom 2.5 bath spacious and serene cabin has peek-a-boo views of - Grass Valley Lake - Lake Arrowhead Country Club. All three bedrooms are downstairs, 2.5 bathrooms, full kitchen and game room. The cabin also has a beautiful back upper deck with a BBQ and views of Grass Valley Lake. Lower deck is a great place to have your morning coffee.
Want to Bring the Kids?
The cabin has a game room with foosball, HDTV with hookup for gaming and more. The living space has comfortable seating, HDTV and a gas log fireplace. High speed internet throughout the cabin. It also includes a full kitchen and a gas BBQ on the upper deck. Enjoy a cup of coffee in the morning from the lower deck off of the master bedroom with views of - Grass Valley Lake - Lake Arrowhead Country Club. There are many local trails to explore. Lake Arrowhead and Grass Valley Lake are private lakes.
A Polka Dot Bra Award?
During Le Tour, jerseys for each category are awarded to the leader of that classification at the end of every stage, and the recipient earns the right to wear it during the following day's racing. The Polka Dot Bra is modeled after Le Tour de France's King of the Mountain, which is awarded to the cyclist who excels in the mountain stages. The cyclist who wins this title for each stage, gets to wear a white and red polka dot jersey. For The Boob Ride, our "mountainous" stages are the 90 mile routes that go up through the Elfin Forest and then back down to the coast. However, in true Boob Ride fashion, cyclists can campaign for this award regardless of their cycling skills or route. For an overview of all of our awards and their history, click here.