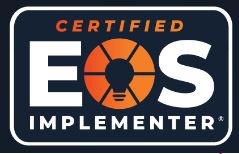 Jim Bras and EOS Worldwide Sponsor The Blue Bra Award 2023
Jim Bras is back again and sponsoring Big Blue, our Blue Bra Award for the most supportive organization. The Blue Bra isn't part of Le Tour d'France's awards because it is a Boob Ride specific award. This award is given out to the team or organization that brings the most people to our event (riders and volunteers). For more information on the Blue Bra Award, see our blog post.
Jim Bras is a certified EOS Implementer, who is an experienced entrepreneur with an extensive background in the service and construction industries. Mr. Bras is a 25 year veteran of the systems integration industry, and an original founder of an internationally award winning systems integration firm which he lead with a partner for 13 years. Having founded and built a high-touch technology service organization, Jim loves to work with construction, technology, and especially systems integration business owners. Helping them get more of what they want from their businesses. So they can have more time outside of their businesses for the people they love and other passions. Jim helps people dial in the work side so they can lead fulfilling personal lives and contribute more to those around them.